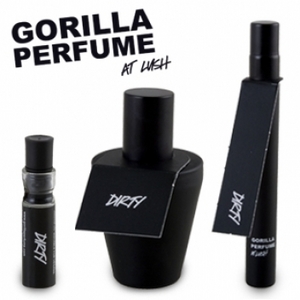 Soon as the weather changes, I crave new fragrances. I don't need to go to a counter or to Sephora....my inner beauty addict clock tells me, "Its time for something new!" LOL!
Lush Dirty
came just in the nick of time to switch it up and satisfy the inner urge for a new smell!
"
Lush Dirty Fragrance
(10ml spritzer, 30ml bottle, solid) is clean, minty and refreshing. Owing to the herbal undertones, it is sexy and invigorating. The main notes are spearmint, tarragon, thyme, oak moss, lavender, sandalwood and neroli."
I absolutely love this scent! It comprises three of my favorite notes: lavender, sandalwood and neroli.
Dirty
first goes on smelling like a fresh piece of spearmint gum but dries down wonderfully soft and warm. If you are in to fresh and herbal scents, this is a masterpiece. Even though the notes sounds very masculine or unisex, I feel extremely feminine when I wear
Dirty
.
I know that I will fly thru the .3 fl oz size I received so this scent is officially on my Christmas wishlist!:)
I received a

free product

(or products) for review purposes. I did not receive any form of

compensation

from the company. All opinions are my own and not influenced in anyway. My reviews are my personal and honest opinions