Hey Everyone!!!
She's back!! My polish MOJO!! I know I said that in the last fresh coat post, but the spring beauty season is just bringing in new colors, formulas and surprises and I'm excited!
Today, I'm featuring nail art by
B. Nichole Nails
. Two of the biggest trends in nails for 2013 are custom nail art and temporary nails in the form of quick artificial nails and quick nail applique.
B. Nichole Nails
combines both: custom, fresh nail art and the option of having it done on press on nails for a quick fashion fix.
The owner of
B. Nichole Nails
, Bianca, sent me two sets of nails. Here, I'm going to show you one of my favorites of the two....
I love the color scheme of bright blue, a grape-y purple and citron yellow with the trendy chevron design in black. The compliments the day I wore this set was off the hook!! People, first, wanted to know, who done them and then they couldn't believe they were press ons. lol!
Day two of this set, I trimmed down to be a bit more wearable for my lifestyle. I didn't lose any of the beautiful design feel, they look great even shorter.....
I wore these nails for about three days, which it about to life of any press on. If you don't wash dishes twice a day or more like me:(, you can wear them even longer. These kind of quick nails are great for weekends, weddings, dates, special occasions, gifts, the list goes on!!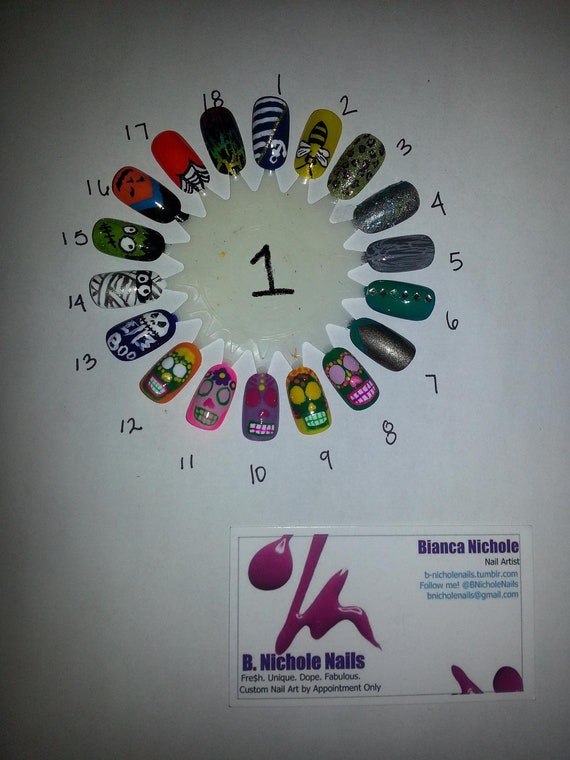 You can purchase pre- designed or custom made sets at B. Nichole Nails on Etsy...Click
HERE
to check out the store and order....Here are some photos of couple of her designs..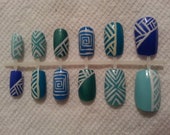 Bianca also has a tumblr, click
HERE
and you can follow her on twitter, click
HERE
!!!
So what do you think? What design would you pick if you were ordering a custom nail design set from
B. Nichole Nails
? Let me know in the comments!!
Disclosure: This products was sent to me for review. I was not paid to do this post and all opinions are honest.