Hey Everyone!!
From luxury to handmade to costume, I love jewelry. I think most of my old readers know that by now! The adornment of jewelry is ultimate style for me. I need to be in at least four pieces of jewelry a day and every piece must tie together effortlessly. Sometimes, I get a creative bug in my spirit and think of pieces I would like to make. Then I realize that even though I'm very visually creative, I'm not as handy with tools, glue and paint as I would like to be. That's when sites like
Etsy
and
Anjolee
come in.
Anjolee
is a jewelry company that allows you to customize fine jewelry to your standard and liking. All of
Anjolee
pieces can be customized according to preference of metal type, diamond size, diamond/gemstone quality, and length/size. Plus you customize with gemstones and birthstones.
I've always craved a tennis bracelet and a pair of
diamond stud
earrings. For me, those are two classic pieces for a jewelry wardrobe. The diamond earrings can be dressed with any necklace and the bracelet can worn alone or layered with other pieces. Plus they both look decadent on the wrist and in the ears.
I chose to customize a pair of
Royal Four Prong Diamond Studs
, 14 carat White Gold with 1.46 carat weight. I thought the prong setting was gorgeous and unique!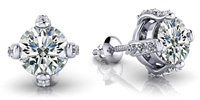 I also played around and customized a tennis bracelet. I chose the
Princess Cut Dreams Bracelet
. It is literally the bracelet I've dreamed of since I was little girl looking through jewelry catalogs and going in jewelry stores with my Granny. It's 18 carat White Gold, 4.05 carat and I also selected the wrist size a little bigger than the 'standard' since I have thick wrists.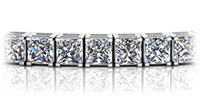 That was FUN!!!!
Visit
Anjolee
at
www.Anjolee.com
to customize some amazing pieces for you or your love ones!
If you had a chance to pick a piece and customize a piece from
Anjolee
, what would it be? Let me know in the comments!
Disclosure: This is a sponsored post. I was monetarily compensated and all the opinions are my own.